Highlighting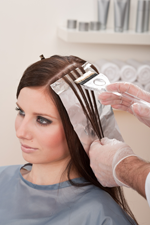 The Claimant had attended the Defendant for a hair lightening treatment. Her hair was permanently dyed a dark brown in colour and approximately 18 inches in length. It was the Claimant's first visit to the Defendant's salon, excepting the previous week when she had attended for a skin test to see if the product to be used was suitable for her skin.
The Defendant used bleach and applied it with foils to the Claimant's hair so that specific sections of her hair could be isolated for lightening to a blond. The application was repeated 4 times and left on the Claimant's hair for a total of 6 hours using a heated appliance to assist development of the bleach!
During the processing of the bleach, the Claimant's scalp began to itch and burn. The Defendant gave her a metal comb to scratch her scalp with!
The resultant colour from the treatment was an uneven ginger tone. The majority of the bleached hair fell out within a week or so. Within a few weeks the Claimant's dark brown hair began to fall also due to the stress. This condition is known as Telogen Effluvium. The Claimant had also suffered second-degree burns to her scalp.
It would take approximately 36 months before the Claimant's hair returned to the length and condition it was prior to the incident and her scalp may remain sensitised to further chemical treatments.
I found that the Defendant did not exercise the required standard of care and skill and that the Defendant showed a lack of concern for the safety and welfare of the Claimant. Thus the Claimant's injuries were a direct result of the actions taken by the Defendant.