Alopecia Areata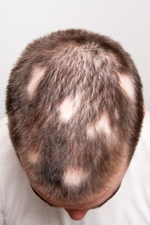 On this occasion the Claimant has just vacated his seat in his lounge to retire for the night and was stood at the door to the hallway, when a motor car came crashing through the wall of his home and into the lounge, where he had just been sitting! The Claimant had to vacate his home for a period of 6 months, whilst the repairs to his home were completed.
One month after the incident, the Claimant's hair began to shed excessively leaving small, circumscribed patches of hair loss. The Claimant suffered such severe shock that it had precipitated a condition known as Alopecia Areata. The Claimant had never suffered from such a condition previously.
At the time of my examination, some 12 months later, the Claimant's scalp showed no signs of any Alopecia Areata patches remaining, so I could state that his scalp had fully recovered from that particular incident.
However, due to the unpredictability of this disease, I could not state with all confidence, that the disorder would not recur given the right conditions. As one has to have a genetic predisposition for Alopecia Areata for it to manifest, once one has suffered an incidence of Alopecia Areata, one is more likely to have a recurrence if any of the known triggers for this disease are present, such as hormonal change, high fever, physiological/psychological stress, viruses, infection, local injury, allergies & chemicals.
The cause of the Claimant's Alopecia Areata was sudden extreme psychological stress.